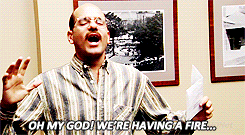 Scouts: Holy cats what a day for baseball.  It seems like half the league made moves.  The Orioles and Rays were having a Fire Sale to end all Fire Sales.  So, let's see.  Kind of hard to know where to start.  The Dodgers picked up Brian Dozier, the Brewers picked up Jonathan Schoop, The Baltimore Braves picked up Kevin Gausman and Darren O'Day, the Pirates picked up Chris Archer, the Dodgers got John Axford, the Phillies got Wilson Ramos, Brad Ziegler took a bullpen cart to his new team the D'Backs, The Cubs, Mariners, and Indians all picked up people.  Was there anyone who didn't get someone?  The Yankees lost their new acquisition J.A. Happ to Hand, Foot, and Mouth disease, the Red Sox lost Chris Sale to inflammation, and the Mets were just brutally murdered right in front of thousands of people.  July sure went out with a bang.  Today's music is all about new beginnings.
---
Mets 4, Nationals 25 – Prof: THE GAME OF THE NIGHT. THE GAME OF THE YEAR! Your eyes do not deceive. No, this isn't a football game. This was a baseball game played with actual baseball players – at least, by Washington. This game was so washed that Jose Reyes took an inning AS A PITCHER (and ended up with an ERA of 54.00). This game was so sad that Washington  could have put a Jack Russell Terrier at home plate at times and still gotten a knock. The list of Nats who got a run is so long that it might be easier to state who didn't do well at the plate (hint: those people are pitchers, but even then, Tanner Roark went 2-5 with 3 RBI so take that under consideration). I can't, y'all. I'm going to be laughing for days, this is ridiculous. LOLMets, indeed!
Phillies 3, Red Sox 1 – Prof: Jake Arrieta, Tommy Hunter, and Sean Dominguez put together a fine outing for the City of Phanatical Love, combining for twelve Ks, shutting down a hot hitting Boston squad. Maikel Franco went 2-3 in the win.
Orioles 3, Yankees 6 – Prof: The New Look Orioles played the only team they have a winning record against this season, and still ended up losing, a result that surprised no one. Player of the game for Baltimore was former Brave Jace Peterson, fitting because they've pretty much traded all of their veterans to Atlanta. Miguel Andujar hit a three run homer in the fifth inning to put the cap on the night for New York.
Scouts: At the start of last night's contest the Orioles had two players batting over .240.  Adam Jones remained on the roster only because he rejected a potential trade to Philly.  I wonder if he regretted that decision when he looked around the clubhouse and only saw Chris Davis and Pie hating Mark Trumbo left.  In good news, it's almost guaranteed that a Baltimore Oriole will go to and probably win a World Series ring this year.
Cubs 4, Pirates 5 – Prof: The Pirates, buoyed on the news of the arrival of a new ace (Chris Archer), played against the Goliath of the NL Central. It was nearly a Cubs victory, but Addison Russell overplayed his hand in the ninth inning, trying to stretch a run and ended up being the final out, securing a win for the Black and Gold. Jameson Taillon picks up the win.
Reds 1, Tigers 2 – Prof: A Niko Goodrum homer and eight strong innings from Matthew Boyd helped Detroit rise above Cincinnati.
Angels 6, Rays 10 – Prof: Name a player on the Rays other than Kevin Kiermaier. I'll wait a minute. Chances are, if you actually remember any remaining Tampa Bay Sea Creatures, that guy got on base last night. Matt Duffy went 3-5 and Mallex Smith went 3-4. Johnny Wholestaff took the mound for the Rays, and probably will until the Lord comes back. Meanwhile, Mike Trout went 2-5 including a solo homer.
Marlins 6, Braves 11 – Scouts: After spending the night painting Braves Uniforms on the greater portion of my bobble-head collection, the Baltimore Braves…er I mean Atlanta Braves went out and smacked around the Marlins.  Prospect Kolby Allard won his MLB debut, Ronald Acuna Jr., former Oriole Nick Markakis, and Johan Camargo all went yard.
Royals 4, White Sox 2 – Scouts: I don't know why the White Sox weren't interested in making any trades at the deadline.  Maybe they think they are only a year or two away from contending.  The Royals, don't really seem to have much of any interest to anyone.
Spiders 6, Twins 2 – Scouts: Trevor Bauer struggled through the start, but was able to hold Minnesota to 2 runs over 4 hits.  Brad Hand and Cody Allen slammed the door shut while Jose Ramirez and Edwin Encarnacion provided the juice.
Rockies 6, Cardinals 3 – Scouts: Garlos Gonzalez showed off all his skills, both making a pretty spectacular grab in the field, and smacking his 13th homer, a two-run shot in the 7th.
Giants 3, Padres 2 F/10 – Prof: In this extra innings affair, San Diego's Eric Hosmer got the party started with an RBI double in the first inning, while San Francisco's Andrew McCutchen hit a solo homer and All Star Brandon Crawford hit the go-ahead single with two outs in the tenth.
Rangers 0, D'backs 6 – Scouts: Zach Goodley will be one of the key performers if Arizona plans to go deep in the post-season, and last night showed off what he can do.  Goodley went 7 innings, allowing just 2 hits and a walk, while shutting out the Rangers on 10 strikeouts.
Blue Jays 2, A's 6 – Scouts: Khris Davis picked up homer number 29 as the A's stayed hot, hot, hot.
Astros 5, Mariners 2 – Scouts: Evan Gattis broke it open with a two run-shot in the 6th, and Josh Reddick added some insurance in the 9th with a two-run shot of his own.  The Astros ended a season-high 5 game losing streak with the win.  It wasn't all good news however, as George Springer left the contest in the second with shoulder soreness after a diving play.
Brewers 1, Dodgers 0 – Prof: Hard fought, scrappy game between two teams that could very well feature in the postseason. Lorenzo Cain and Christian Yelich continue to be the difference makers for Milwaukee, being the one-two punch that generate runs, including the winning run in this game. Fun fact – the Dodgers' Manny Machado and new Brewer Jonathan Schoop are former Orioles and best of friends. While Schoop was not at the game last night (he was traded right at the 4 pm deadline, and was still at Camden Yards when it was announced), Schoop and Machado will probably meet up soon. I wonder if they will be just as friendly with each other whilst wearing different laundry?