Prof: For those who missed it or take the weekends off, we had a loss in our extended family. Send positive thoughts and love to our very own Spartan, whose father passed away this weekend. We love you, Sparty, and if you need us for anything, please let us know. That goes for all of you – if there's anything you need from me, I'm here for you.
---
Orioles 0, Red Sox 5 – Scouts: Who gets 13 hits and scores 0 runs?  These guys!  The O's got shut out by their own former prospect, whom they traded away for a few months of Andrew Miller.  Man, it'd be really nice to have a starter or two right about now.  Over the weekend, Chris Davis entered the top 50 all time strike out list.  He's nearly a lock to reach top 10 with an unmovable contract.
Athletics 9, Blue Jays 2 – Scouts: Daniel Mengden took time out of his busy schedule tying women to rail road tracks only to be thwarted by a Canadian Moose and Squirrel to shut out the Jays over 7 innings.  Toronto did not help their cause committing 4 errors, matching their 4 hits.  Egads.  Maybe they were distracted by the sweet, sweet 'stache.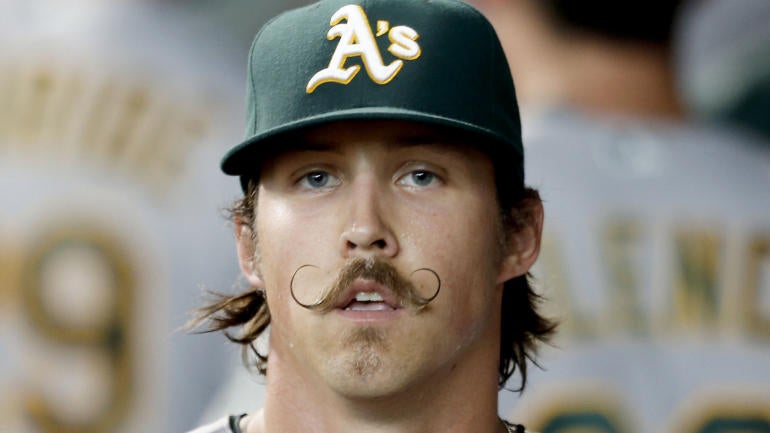 Cubs 6, Reds 1 – Prof: Here's a thing I did not realize – Yu Darvish hadn't been awarded a win all season long. Today was his first! Baby Babe Ruth – aka the Schwarbs – hit a two run homer, and Javier Baez and Ben Zobrist both hit solo dingers to Fly the W.
Diamondbacks 1, Mets 4 – Prof: Woof, Gritty Snakes! A Mets sweep? Really, guys? This game, though, was not surprising, as Noah Syndergaard went seven strong innings and only gave up one earned run. New York went nothing but yard for all of their runs.
Marlins 9, Braves 10 – Prof: My apologies for the long, long recap of this game, which was THE COMEBACK OF THE YEAR!!! I might have actually jumped up and yelled a few times. But let's talk about what led up to this absolutely murderous ninth inning and why this was SO epic. The day started incredibly rough for Atlanta. Julio Teheran – who STILL can't pitch at home, ever – gave up a grand slam in the fourth inning after my dude the Big Buckin' Chicken scored on a balk. I mean, what a mess. The Braves started clawing back in the sixth inning, with a couple of RBI singles from Freddie Freeman and Nick Markakis, but they were soon negated by the Feesh hitting a two run homer in the seventh. Another Miami homer in the ninth inning, and the Braves were down 9-4. They were looking defeat right in the eye… and then they decided to spit in that eye. A walk, a single, a sac fly… 9-5. Ozzie Albies scores due to a throwing error, 9-6. Freddie gets to second base because of some craziness. Nick Markakis hits a single, FF5 scores. 9-7. Kakes steals second, Tyler Flowers walks. Kurt Suzuki singles, Kakes scores. 9-8. A wild pitch moves the crowd over, then Johan Carmargo walks. Up comes Dansby Swanson, who began the inning. The Braves were one out away from losing this thing, but not today, Satan. Not today! Dansby "Incredible Hair" "Civil War General" "Don't Hate Me Because I'm Beautiful" Swanson hit a solid, lovely single to left field, driving home Flowers and Suzuki, and the Braves walk it off! I'm still over here half freaking out. What a roller coaster!
Yankees 10, Royals 1 – Scouts: Tyler Austin went deep twice, and Sonny Gray threw a masterful performance as the Yankees as expected trounced the hapless Royals.  Hey KC fans, just be glad you don't have to play them 19 times a year.
Phillies 1, Cardinals 5 – Scouts: Jack Flaherty picked up his first career victory and all he had to do was shut down the Phillies for 7.2 innings, striking out 13 and giving up just a single run on a pair of hits.
Dodgers 7, Nationals 2 – Prof: Well, well! Ain't this a thing? The Dodgers swept the Nats this weekend! Stephen Strasburg coughed up two home runs, while the Curly Dubs bullpen gave up four more runs as the Dodgers found a spark to ignite their offense.
Padres 8, Pirates 5 – Scouts: Pittsburgh was hot, then they were not.  Then they were hot again.  Now, not so much.  San Diego rallied for 4 in the 9th to steal away the win and the series, a win that featured a beautiful squeeze bunt by Freddy Galvis.
Rangers 0, White Sox 3 – Prof: Meh, kind of a boring game to be honest, the White Sox hit a homer and an RBI single in early innings. The real excitement happened in the stands where a White Sox fan ate an entire ginormous ice cream sundae by himself. Here's video evidence:
Brewers 1, Twins 3 – Scouts: Jake Odorizza gave up 5 hits in 5.2 innings, but also struck out 10 and held the Brew Crew to just a single run.  The Minnesota bullpen held the lead and the game was set.
Rockies 5, Giants 9 – Scouts: Back-to-Back-Jack went Brandon Belt and Nick Hundley in the 7th as the Giants rallied to work a split 4 game set against the Rockies who just can't seem to step it up a notch.
Rays 2, Angels 5 – Prof: Shohei Ohtani went 7 and 2/3 innings, only gave up two runs, and struck out nine as the Los Angeles Angels of Anaheim got back to winning ways by defeating the Tampa Bay Sea Creatures.
Tigers 2, Mariners 3 F/11 – Scouts: The Tigers bullpen failed to hold another one giving up a tying homer in the 9th to Mitch Haniger, and a walk-off single to Jean Segura in the 11th.
Spiders 1, Astros 3 – Prof: It was Orbit's Birthday! My favorite green fuzzy alien had a big party and invited a bunch of his mascot friends, including the other best fuzzy green mascot in sports (The Phillie Phanatic), Slider (the Mascot of Cleve), Dinger the Rockies Purple Dinosaur, and others. Look at the cute mascot-y shenanigans they got up to:
In actual baseball game news, Lance McCullers Jr. showed ace status, allowing only one hit in seven innings, and BMac (er, Brian McCann) hit a two run homer to prove that there's still gas in his tank, elevating Houston over the Magical Land of Cleve and giving Orbit a very happy birthday, indeed.