Texas and Toronto got into a massive fight in the top of the 8th after Jose Bautista (I'm not saying he was at at fault, but why is he always in the middle of these sort of things) slid hard into second and Rougned Odor came up swinging.  (Bautista was on first after he was hit by a pitch and benches were immediately warned by the officials.)  The play was still live at the time the fight occurred.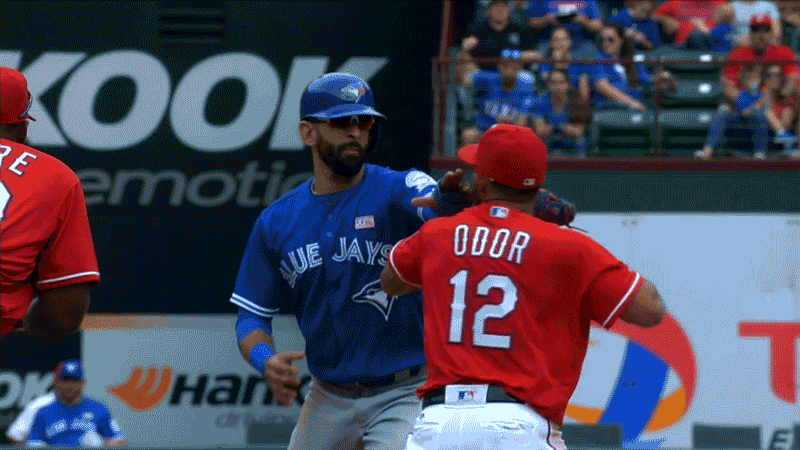 Image was found on Deadspin.
Bautista and Odor were ejected along with Toronto's Josh Donaldson and Texas bench coach Steve Buechele.

Umpires needed about 10 minutes to restore order, and Blue Jays reliever Jesse Chavez hit Prince Fielder with the next pitch when the game resumed, causing both teams to leave their dugouts again, although this time no punches were thrown.
I'm certain we will see suspensions galore after this one.  Maybe Texas is still a little miffed over the now infamous bat flip in last year's playoffs.  The Rangers and Blue Jays are not scheduled to face each other again this season.
Ejection final tally:
Toronto: Jose Bautista, Josh Donaldson, Jesse Chavez, Tim Leiper, 1B coach, John Gibbons, manager, DeMarlo Hale, bench coach.
Texas: Rougned Odor, Steve Buechele, bench coach
This is the actual fight.
Bautista getting hit preceding the fight.
Prince Fielder getting hit post fight.
---
ScoutsUpdate: Post Fight Quotes!

Jose Bautista had a few very interesting comments after the game.
"I thought it was pretty cowardly of them to wait until my last at-bat to do that, in the whole series.  It shows at least the apparent lack of leadership they have over there when it comes to playing baseball the right way. Baseball plays are supposed to be taken care of by baseball plays."

"I had a hard slide at second base. I could have injured him (Odor), but I chose not to," Bautista said of the slide. "I tried to send a message that I didn't appreciate getting hit. … He got me pretty good (with his punch) so I have to give him that. But it takes a little bit of a bigger man, I guess, to knock me down.
See Bautista's comments here.  (I tried to embed, but eventually gave up.  Sorry.)
I find it pretty hilarious that the most infamous bat flipper is now telling someone to play the game the right way.  You can't have it both ways.  You say baseball plays are supposed to be taken care of by baseball plays?  Well, isn't that what they were doing when they hit you in retaliation for your bat flip?  According to "the right way", it should have ended right then and there.  But as you admitted, you decided to escalate matters with a purposeful take out slide.  What did you think was going to happen next?
John Gibbons called the Rangers "gutless".
"It was gutless," said Gibbons (via MLB.com), who was one of eight players and coaches ejected for their roles in three separate incidents during the game. "We've played seven games. … The other 29 teams, if they have an issue with you, they come at you right away."
Matt Bush, the player who hit Bautista had no comment.
Odor wasn't available to reporters after the game.
ScoutsEdit #2
According to Deadspin, Bautista's slide was ruled to be in violation of the new slide rules (This is number two for Bautista) and the double play was awarded.